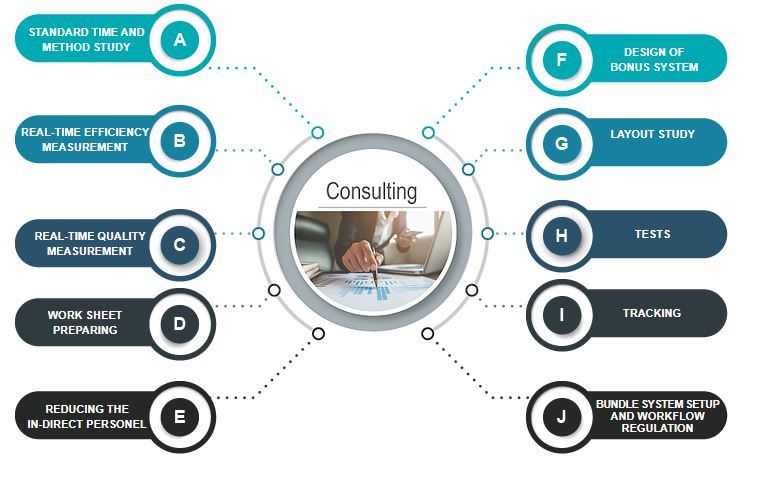 Arge Bilişim, with its industrial engineers provides consultancy services for efficiency and quality improvement .
Arge Bilişim is an expert in setting up engineers work and time study methods, engineering department installation, productivity-oriented layout drawing, traceable and measurable tape installation, bottleneck management, quality-oriented product production, productivity and quality measurement and  premium systems.
Arge Bilişim works in many domestic and international projects with its staff of industrial engineers and greatly improves the efficiency and quality of its customers' factories.
Lean manufacturing consultancy

Factory SWOT analysis

L-out design

Kanban and pull system design

Supermarket system design

Traceability and measurability design in production

SMED training and practice

Value stream mapping and spaghetti diagram

Line balancing, continuous flow, bottleneck management

5S and visual management applications

Gemba – Gemba walk

Seven waste-free studies

Total quality management training

Just in time design and implementation

Kaizen training and applications

Digitalization consultancy

Digital maturity analysis

Data collection training and applications-

MRP & MES systems application consultancy

Scheduling training and applications

Lost time & stop measurement trainings

Efficiency and performance measurement training

Statistical & 100% quality measurement training

Measurement training with standard time chronometer & MTM

OEE measurement training

Fair remuneration system and bonus systems design

Machine failure maintenance and predictive maintenance design & training

Digitalization of regulatory and preventive activities

Designing the use of data science in production

Applications of solving problems in production with big data analytics, data mining, machine learning and artificial intelligence techniques

Cross systems integration consultancy and applications

Product tree and MRP installation consultancy

Product and material identification system design

Order and work order system design

Warehouse and stock systems design

Purchasing, sales, shipping systems design

Production planning system design
BENEFITS OF THE CONSULTING SERVICE
Increasing productivity with regular workflow

Enables productivity and quality measurement in real time

Enabling the implementation of an efficiency and quality-based bonus system

Ensuring the promotion of productivity and quality with the bonus system

Facilitating product flow and optimizing unnecessary walks

Reducing production cost by reducing in-direct elements

Making operation times accurate and predictable

Ensuring the creation of controlled and productivity-enhancing intermediate stocks

Minimizing lost times

Facilitating line balancing

Preventing operators from idle waiting

Facilitating process controls

Ensuring that operators can perform more than one operation

Enabling operators to use more than one machine

Implementing of a production system with a willing to devellop

Ensuring the correct line configuration

Establishment of productivity-oriented factory management

Development of management, production and quality philosophy

Objective management and salary system

Ensuring that product pricing is done correctly